Experienced Car Accident Lawyer Las Vegas, NV
A Good Settlement is NO Accident.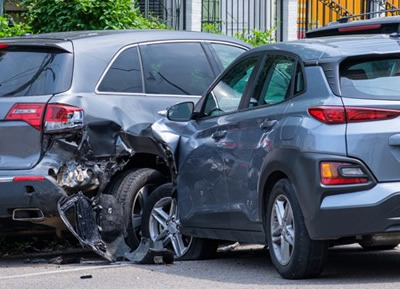 If you have been injured in a car accident, it is important to seek legal representation from an experienced car accident attorney as soon as possible. At Marshall Injury Law, we are here to help those who have suffered serious injury due to the negligence of another. We understand the pain and frustration that comes with being injured, and we are here to help you through this difficult time.
Eric L. Marshall, Esq. has nearly 20 years of experience as a car accident lawyer in Las Vegas. His legal team consists of previous executive level insurance company veterans. This experience gives his personal injury law firm a decisive edge in knowing exactly how a personal injury claim is handled from the perspective of the client, as well as the perspective of the insurance company.
Marshall Injury Law always has its client's best interest in mind. We are fully prepared to negotiate OR litigate with any insurance company to win maximum financial compensation for you! When we represent a client, we work hard to get them the highest compensation they are legally entitled to. Eric uses his experience, knowledge, and resources to get you the best medical care for your injury and best possible outcome for your case.
Schedule a free consultation with us today to discuss your auto accident. There is no cost, risk, or obligation, so call us today at (702) 489-5700 to find out why "A Good Settlement Is NO Accident."
---
Are you a car accident victim? You may be entitled to financial compensation.
Nevada is an "at fault" state. What does that mean? It means that the driver who is determined to be at fault for causing a car accident is generally responsible for paying for any damages, or injuries, that resulted from the accident. This means that if you are involved in a car accident in Nevada, and it is determined that you were at fault, you may be required to pay for the other driver's damages or injuries.
Nevada follows the rule of comparative negligence. This means that as long as your negligence (your actions) are less than 50% of the cause of the accident, you can receive compensation for your injuries. You don't have to be 100% fault free to recover! For example, if you are found to be 20% responsible for causing the crash, your recovery will be reduced by that amount, allowing the remaining 80% of your damages to be paid. There are many variables that can lead to an "at-fault" determination, so it's important to speak with knowledgeable Las Vegas car accident attorneys who can help you navigate your car accident claim.
---
Don't delay in contacting a Las Vegas car accident attorney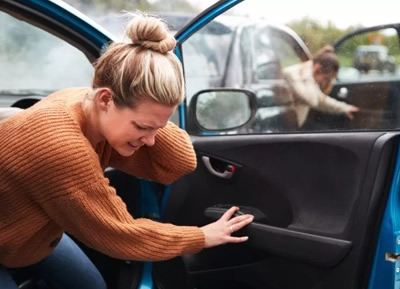 While it may seem like a good idea to wait to hire a qualified car accident lawyer, there are several reasons why you should hire one as soon as possible.
Some reasons include: setting up a proper claim with the insurance companies; guidance in providing accurate recorded statements to the insurance company; help in determining what insurance policies are applicable to the accident and in what amounts; assisting in quantifying lost wages from work; help in getting access to a rental car; and help in finding medical providers who understand injuries caused by car accidents.
Oftentimes, the longer you wait after an accident to contact a car accident lawyer, the more difficult the process with the insurance company becomes, and the less recovery you receive for pain and suffering.
In addition to the value help car accident lawyers can provide at the beginning of your case, the right qualified car accident lawyer can help you get the maximum compensation at the end of your case.
Call (702) 489-5700 for a Free Consultation or fill out our contact form to receive a call back. We are experienced car accident lawyers who have a history of winning for car accident victims!
---
What types of Personal Injury Cases Do We Handle?
Marshall Injury Law represents clients across the Las Vegas valley. We cover anything from vehicle accidents to personal injury accidents in the following areas of practice:
Bicycle accidents
Slip and falls
Dog bites
Workplace accidents
Catastrophic injury
Wrongful death
Traumatic brain injuries

Bicycle accidents
Slip and falls
Dog bites
Workplace accidents
Catastrophic injury
Wrongful death
Traumatic brain injuries
If you've been injured because of someone's negligence, contact the Marshall Injury Law firm immediately for a free consultation. Eric L. Marshall, Esq. will personally review your case with you for free. He will answer your questions, give you his honest opinion based upon his decades of trial experience, and help you understand your rights and options. His expertise will help you strengthen your case to recover compensation for medical expenses, bodily injury, and lost wages after a serious auto accident.
Contact our law firm for a FREE consultation after a Las Vegas car accident.
Eric and his team have the resources and experience to recover the maximum compensation you deserve, and we will never settle for less than what you are owed.
---
How do I choose the right car accident lawyer in Las Vegas?
If you've been in a car crash, you may be wondering how to choose the right Las Vegas car accident attorneys for your case. It's important to choose accident attorneys who have experience winning for victims of car accidents. You also want to make sure they have your best interest in mind. Here are some tips on how to spot a high-quality car accident attorney in Las Vegas (spoiler alert, we check all of these boxes):
Make sure the attorney has experience handling motor vehicle accident cases in Nevada

You want to make sure that the attorney you choose has experience handling car accident cases in Clark County, Nevada. Laws from state to state can differ, so it's important to choose a car accident lawyer familiar with the latest Nevada law. The more familiar with Nevada law they are, the more likely you are to get the financial compensation you deserve.

Make sure the attorney is focused on your health

Too often at larger law firms you are treated like just another client out of the 100's who are seeking legal advice that week. This unfortunately leads to a loss of empathy and personalized care that is needed by those who are suffering serious injuries from the negligence of another. A good car accident lawyer will prioritize your health while building a strong car accident cases. The attorney themselves will meet with you from the start to make sure you are receiving medical care that will lead to your continued long-term health.

It's important to remember that eventually, the compensation you receive from your case will run out. Your health is something you will hold onto for the rest of your life. The best car accident attorneys will put your health first and your compensation second. This is a recipe for long-term success for their clients.

Seek out referrals from people you trust

If you know someone who has been in a car accident, and was happy with their attorney, ask for a referral. This way you can feel more confident that you're hiring an attorney who will work hard for you and achieve the best possible outcome.

Research attorneys online

When you're looking at different car accident lawyers, it's important to do your research online. You can read reviews of attorneys and see what other people have said about their experiences. You can look up your attorney on the Nevada State Bar website to verify they are in good standing with the Nevada State Bar. You can look up the attorney generally online to verify they have conducted themselves in a professional manner in the community. The time you take researching your attorney online can provide the added confidence that you're choosing an attorney who will best suit your needs.

Or simply hire the best

Nobody works harder to build long-term client relationships while fighting to recover maximum compensation than Eric L. Marshall. When you become a client at Marshall Injury Law office, we understand the level of trust you are giving us to handle your case. Eric knows that your trust and confidence is not automatically given, it has to be earned. Marshall Injury Law is not looking for "just another client", but works hard to welcome a long-term member of its legal family.

If you want to be treated like a member of our family, you won't find a more personalized law firm in Las Vegas. If you need legal services after suffering car crash injuries look no further than Marshall Injury Law.
---
What's involved in a serious car accident case? What can you expect?
A personal injury case is a civil lawsuit that arises when one person's negligence causes harm to another. Personal injury cases in Las Vegas are filed in civil court, not criminal court. The burden of proof for a plaintiff in civil court is not "beyond a reasonable doubt" (as in criminal court) but is a "more likely than not" standard. What this means is that if a jury can find your injuries to be "more likely than not" caused by an accident, then you may recover compensation. The goal is to recover maximum compensation in the quickest amount of time so car accident victims can get back to their lives and reduce the costs they may incur in their case.
Most car accident attorneys will seek to settle a car accident case without going to trial. When a case goes to trial, it usually means the insurance company has failed to provide what would be considered "fair" compensation for their client or there is a dispute as to how the car accident occurred.
At the Marshall Injury Law firm, we are more than prepared to proceed to trial if we feel an insurance company is not providing reasonable compensation for your insurance claim. Eric has over 15 years of litigation experience and is not afraid to take any insurance company to court. However, he also stands behind his clients FIRST, to put them in the BEST position to "win" their case. Sometimes, that "win" can be found out of court.
---
Proving fault in a Las Vegas car accident
There are three key components to proving fault and maximizing compensation for any personal injury claim:
The defendant was negligent;
That negligence caused your injuries; and
That your injuries were substantial, meaning they were painful or disabling enough to affect your life.
In the context of personal injury law, a "standard of care" is used to determine whether a defendant's actions or inaction were negligent. Generally, that means that they failed to act with the level of care that a reasonable person would have exercised in the same situation.
Methods for determining "fault" in a car accident depends on individual state laws. Nevada is a "fault state". This means that the person determined to be at fault for the accident is generally held responsible for any resulting damages or injuries.
In summary, If the defendant's actions fell below the "standard of care" and caused the plaintiff's injuries, the defendant may be held legally liable for those injuries.
---
How we build your case for compensation
We generally begin with investigating the accident. How did it happen? Where did it happen? Were there witnesses? Was there a traffic accident report? In some circumstances, we hire forensic analysts, including accident reconstructionists, biomechanic engineers, and human factors experts, to help discover the facts of the automobile accident. The police report will also be reviewed to determine law enforcements observations at the scene of the car crash.
Medical professionals are necessary to provide a diagnosis and provide treatment for accident victims who suffered injuries. These medical professionals can utilize your health insurance for payment, or they can utilize an "attorney lien" which allows you to treat with no "out of pocket" money. The attorney lien is then paid to the medical providers at the end of your case. Regardless of your injuries, or your personal insurance, we can help you find the best medical specialists who can focus on your long-term health.
With the documented evidence regarding the accident, an understanding of the severity of your injuries, and the cost of medical treatment confirmed, we can confidently pursue a car accident claim with an insurance adjuster. The claim will include a full compensation request for the losses suffered by the accident victims. This claim includes economic damages (measurable property damage, lost wages, cost of medical bills) and non-economic damage (pain, suffering, emotional trauma).
---
Insurance companies will try to minimize the amount of compensation they provide.
An insurance company will try to minimize the amount of compensation they are responsible for paying. The insurance company will try to find ANY reason to lessen their settlement. They may try to argue that you were speeding, driving under the influence, ignoring traffic laws, reckless driving, or any other reason they can find to reduce their payout. They will look for specific evidence that supports their position and use it against you as leverage to settle for a lesser amount.
A common argument by the insurance company is "pre-existing condition". They attempt to argue that if you already had a condition before an auto accident - any injury sustained during an auto accident was already present. This would mean that you couldn't prove that the auto accident caused your injury, or made it worse, allowing the insurance company to deny payment for your injuries. You need an accident injury attorney that knows how to address "pre-existing" conditions and how they may affect your claims for injury and financial recovery.
Insurance companies often use social media posts against you. Everything you post on social media can become evidence later on, regardless of your privacy settings. If you take any photos of yourself enjoying life, despite your injuries after your Las Vegas car accident, they can use this against you and claim you are not as injured as you claim to have been.
Even if these photos or posts are deleted or expired, an insurance company can subpoena the social media company to provide all hidden posts dating back to the time of the car accident.
---
Hire an experienced car accident attorney who can fight for you
With the deck stacked against you, we recommend hiring an auto accident attorney immediately to look at your case. You can be subject to minimizing circumstances for any number of situations the insurance companies throw at you, but our personal injury attorney can help you get the compensation you deserve.
Schedule a free consultation with Eric L. Marshall at Marshall Injury Law about your case today. (702) 489-5700
---
Injuries from car accidents can be severe and long lasting
The most common car accident injuries from car accidents can include cuts, bruises, broken bones, sprained muscles in the spine, injuries to your spinal discs, and headaches.
In more severe cases, car accidents can result in spinal cord injuries, loss of limbs, amputation, traumatic brain injury, and loss of life. In addition, there is often psychological trauma and emotional distress.
The specific injuries that a person may suffer in a car accident can depend on several factors, including the speed and force of the collision, the types of vehicles involved, and the position and condition of the occupants at the time of the car accident.
Often a victim of a car accident will continue to suffer the effects of their injuries long after the case closes. It is the goal of Marshall Injury Law to help put you back in the same physical condition you were in before the automobile accident. When that is not possible, it is important to have an accident injury lawyer to help you receive compensation for those long lasting injuries and the medical care they will require.
---
If you were injured in an automobile accident with an uninsured driver, there are steps you can take to make sure you receive the compensation you deserve.
Oftentimes after an automobile accident you don't know whether the other driver had valid insurance at the time of the accident. They may provide insurance at the scene of the accident which is expired, has been revoked, or does not cover the driver operating the car at the time of the accident. The steps for gathering information at the scene become even more important.
After an automobile accident you should:
Contact the police as soon as possible. Even if it was just a fender bender, it's important to obtain a police report from law enforcement to preserve the evidence of the car wreck.
Obtain contact information from the other driver. This will put the driver of the car that hit you at the scene in case they deny it later.
Contact your local car accident attorney immediately following the aftermath of the car wreck; do not wait until after work hours or the weekend when most offices are closed. This is important so your car accident attorney can determine whether the person who caused that automobile accident was carrying car insurance at the time of the accident.
Seek medical help. In the event of a car accident, it is important to you seek medical attention immediately after the accident. While some injuries are obvious at the time, others may not become apparent until weeks later. In many cases, individuals fail to seek medical treatment right away because they believe their injuries are minor and will go away on their own. Unfortunately, this often results in further complications that could have been avoided if they had sought medical attention immediately after the accident occurred. If you are unsure whether to receive medical treatment, or how to receive medical treatment, call Eric L. Marshall for help.
---
Preventative measures against uninsured or underinsured drivers
Living in Las Vegas and Henderson is unique. There are drivers all around you from around the world. Some have insurance, some do not, and some return to their country and cannot be found. This unique setting requires you to explore preventative measures before you're in an unfortunate auto accident with an uninsured driver, or underinsured, driver. We highly recommend looking into supplemental coverage that goes beyond state minimums.
I invite you to schedule a free consultation and I will meet with you to discuss what insurance coverage you currently have, and give you my legal opinion on what insurance you should have.
In addition, your own insurance company should be able to provide further information about Uninsured motorist coverage (UM) and Underinsured motorist coverage (UIM). It's important not to rely on the other driver's insurance company to take care of you after you are suffering from car accident injuries.
---
What evidence do car accident injury attorneys use to win a case?
In a car accident case, the evidence that is used will depend on the specific circumstances of the accident and the claims being made. Some common types of evidence that may be used in car accident lawyers include:
Police report: These documents provide an official record of the accident, including details such as the location, time, weather conditions, and any citations or charges that were issued.
Photographs: Photos of the accident scene can provide valuable visual evidence of the damage to the vehicles, the location of the vehicles, and the surrounding area.
Witness statements: If there were any witnesses to the accident, their statements can provide important information about what happened, who was involved, and who was at fault.
Medical records: If anyone was injured in the accident, their medical records will provide important information about the nature and extent of their injuries, as well as the treatment they received. This will include an itemized list of the medical expenses incurred.
Expert testimony: In some cases, an expert witness may be called to testify about the cause of the accident, the severity of the injuries, or other relevant issues. For example, an accident reconstruction expert may be able to provide detailed information about how the accident happened based on an analysis of the evidence.
---
Who is financially responsible in car accident cases?
Automobile accidents in Las Vegas can have settlements that range from a few thousand dollars to millions of dollars. Marshall Injury Law has handled all types. The amount of settlement oftentimes depends on the severity or permanency of the injuries claimed. Settlements can include compensation for pain, suffering, diminished quality of life, inability to work, short term disability, long term disability, paralysis, loss of limbs, etc. Unfortunately, the amount of recovery available is oftentimes limited by the amount of liability insurance the at-fault driver was carrying at the time of the collision. It is more difficult recovering from an individual than an insurance company due to their inability to pay.
When a lawsuit is brought to recover money for your injuries after an automobile accident, the person who caused the accident is the named defendant. Sometimes both the driver, and the owner of the car, are both named as defendants. However, if there is car insurance available, it is NOT the defendant who will pay for your injuries, but their insurance company pursuant to their policy of insurance. Some people are hesitant to "sue" the other driver because it was "just an accident". It's important to remember who will eventually be paying your claim for damages. The insurance company, NOT the person.
---
Can I still get a settlement if my injuries didn't require surgery?
Not every injury from an accident requires surgery. In fact, the majority of cases I have handled over the years are for clients who suffered "soft tissue" injuries which did not require surgery. These types of cases involve sprains and strains of muscle tissue and are often treatment with conservative chiropractic or physical therapy modalities. Regardless of the severity of your injury, it is important to document your injuries. Takes photographs of cuts, scrapes, and bruising. Those types of injuries heal quickly and may not leave scarring that you can provide as proof later on.
Even if your case doesn't require surgery, medical bills for treatments after an accident can add-up very quickly. Medical bills from the ambulance, hospital, radiographic studies, conservative treatment, prescription medication, doctors, specialists, rehabilitation centers, etc. Eventually those bills can be paid by the insurance company of the adverse driver, however, sometimes they may require out of pocket payments by you. You need an experienced attorney to verify the accuracy of those medical bills, make sure those bills are paid by the at fault driver, and ensure that you are left with no outstanding balances at the end of your case.
An accident attorney in Las Vegas can help by ensuring there is an accurate estimate of future medical intervention needs and what those costs might be if they arise later down the road; this way we know whether or not our client deserves more than just a fractional sum based off current damages (which often times don't amount anything).
---
What is considered property damage in a car accident case?
Property damage is a term that refers to any damage or destruction to your personal property due to an accident. It can include your car, home, or personal belongings. When property damage occurs, the owner of the damaged property may be entitled to compensation from the person responsible for the damage. This compensation can help cover the costs of repairing or replacing the damaged property. Property damage is sometimes referred to as "economic damages" when calculated in a personal injury case.
Property damage to your car following an accident can be tricky. Generally, your car is inspected by a licensed professional and an estimate of repair is created. If the estimate of repair exceeds 65% of the fair market value of your vehicle, it generally is determined to be a "total loss". If not, the vehicle may be repaired for. Loss of use of the vehicle while it is being repaired or replaced, diminished value of the vehicle because it has been in an accident, and damage to newly installed or specialized parts can also be added to the value of the vehicle. It is important to consult a lawyer with experience in handling property damage claims to get the maximum value for your damaged car.
---
What are the common causes of car accidents?
There are many factors that can contribute to car accidents. Some of the most common include speeding, distracted driving, reckless driving, drunk driving, and poor weather conditions.
Other factors that can play a role in car accidents include aggressive driving, drowsy driving, and failing to obey traffic laws. It's important for drivers to always be aware of their surroundings and drive safely to avoid accidents.
---
How Much Does a Consultation Cost with Marshall Injury Law?
Nothing. Eric L. Marshall will meet with you personally to go over your case. You won't be delegated to another attorney here, and you will have contact with him throughout the proceedings of your case if you have any questions. Together you will collectively go over the details of your injury and have top-notch treatment provided to ensure you can recover from such a traumatic event. Eric's goal is the long-term health of his clients, and this will be at the forefront of every action. When you become a client at Marshall Injury Law you are considered a member of the Marshall Family.
---
Eric L. Marshall is a Las Vegas personal injury attorney voted as a Top 100 Trial Lawyer and has the experience you need after a Las Vegas car accident.
Contact me today by calling (702) 489-5700 or fill out the contact form below. You can put your trust and faith in me to always fight for you just like a member of my family. I have recovered millions of dollars as a Las Vegas car accident attorney. I never back down and my staff and I will treat you like family.
I will never settle for less than what you are owed, and I will never take more than you at the end of the case, no matter the result.
Many other injury attorneys see their clients as dollar signs, but to me, you are family. Come see why "A Good Settlement Is No Accident."