Experienced Las Vegas Slip & Fall Injury Attorney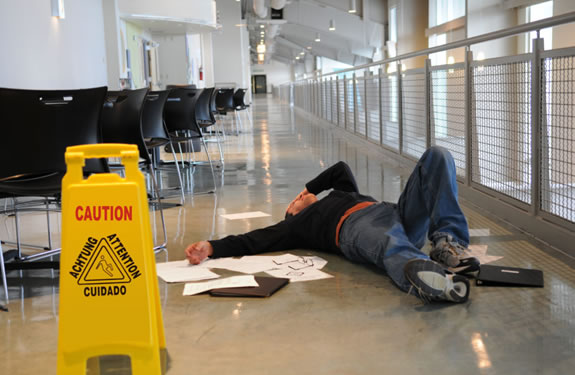 Many people believe that just because they fell on someone's property that they are automatically entitled to recovery for their injuries. Although that line of reasoning is very logical, it is not always the case. State laws have created very high requirements for the injured party to overcome in order to receive compensation for their injuries and treatment following a fall.
Slip and fall cases are often the most difficult cases in which to obtain recovery due to the burden of proof an injured party has to overcome in order to prevail. It is critical following a slip and fall accident that you don't waste time and get an injury lawyer that not only has experience in this area of the law, but success.
According to the Occupational Safety and Health Administration, slips and falls cause almost 700 fatalities per year. In some circumstances, slip and fall injuries are caused by negligence of the property owner and if that's the case, the injured party could have a case.
When we are brought a slip and fall case, we'll help establish that the property owner was liable for your injuries. Whether you were injured at the property of a large casino or at the home of a friend, you could be entitled to a settlement. Our goal is to get you back on your feet and help you recover from your injuries sustained in your slip or fall case.
The attorneys at Marshall Injury Law have over a decade of experience with slip and fall cases. If you have been injured in a slip and fall accident due to the negligence of another party, we're here to help you. Call us today at (702) 489-5700 to set up a free consultation with our attorneys.