Spinal Cord Injury Lawyer in Las Vegas, NV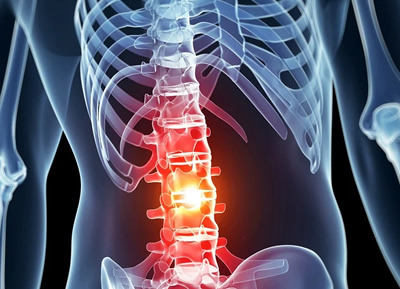 Spinal cord injuries can be some of the most serious and life-changing injuries an individual can suffer. If you or a loved one has been suffered spinal injuries in an accident with a negligent party, contact Eric L. Marshall today.
For more than 15 years, Eric L. Marshall has been helping spinal cord injury victims get the justice they deserve. He understands the physical limitations, emotional distress, and financial losses these catastrophic injuries can take on an individual and their family, and he is dedicated to ensuring that his clients receive the best possible representation.
If you or a loved one has suffered a back or spinal cord injury in an accident, contact Eric L. Marshall today for a free consultation. You may be entitled to compensation for your losses, and Eric will fight tirelessly to make sure you get what you deserve.
The Marshall Injury Law firm has the experience and resources to help you get the compensation you deserve for your spinal injury.
---
Top spinal cord injury lawyer in the Las Vegas area
What You Need to Know
Spinal cord injuries can be some of the most debilitating and painful injuries a person can suffer. If you have been involved in an accident and have suffered a spinal cord injury, it is important to seek legal advice and medical care as soon as possible.
Eric L. Marshall is experienced in litigating personal injury cases for those suffering from a spine injury caused by someone else's negligence in Henderson and Las Vegas.
We will discuss some of the most important aspects of spinal injury cases, including how to document evidence, what to expect from Las Vegas injury attorneys, and how to obtain the maximum settlement for your case.
Call (702) 489-5700 for a Free Consultation
---
Why should you choose Marshall Injury Law to handle your spinal cord injury case?
We build your case for maximum compensation while treating you like a member of our family
There are many Las Vegas spinal cord injury attorneys. All of them will promise you different things in order to earn your business, but it is common for spinal cord injury lawyers at bigger firms to not have the staff to give each client the full attention they deserve.
Marshall Injury Law seeks to be different in the personal injury space. Eric is an expert on personal injury law in Henderson and Las Vegas, and he understands the importance of building a strong spinal cord injury case for compensation. At Marshall Injury Law, we have a specialized process in place for successfully gathering evidence and expensing out all of the associated costs that result from a serious spine injury.
The best part is that you will have access to Eric and his legal team from the very beginning. You will never be passed around during the different phases of your case. This allows us to offer emotional support and expert legal representation throughout the entire process.
We treat our clients like our very own family members and will never sacrifice the level of care we provide for fancy marketing tactics.
---
Evidence building
We will utilize the legal discovery system to gather all relevant facts and reports surrounding the incident, including potentially investigating the accident scene. Our network of experts, including accident reconstruction specialists and medical professionals, helps us to present a convincing argument for why you deserve the compensation you are seeking. Trust that our meticulous process will result in the best possible outcome for your case.
---
Medical expenses
You will also be referred out to medical specialists who can make sure your road to recovery is set. Spinal cord injuries are some of the most devastating injuries a person can experience. Spine injuries can be with you for the rest of your life if you don't receive the proper medical care. This will include extensive physical therapy that may continue long after your case is settled.
Your medical providers will communicate with our legal team when your treatment concludes and inform us of any anticipated future medical care. Your medical bills and associated medical expenses will be included in the final demand and added to the requested financial compensation for the insurance company.
Our biggest focus is your long-term health and recovery from your Las Vegas spinal cord injury because this is something you will carry for the rest of your life.
---
Lost wages
Another aspect we include in your personal injury claim is a calculation for any lost wages you suffered due to your accident. We make sure to include every possible avenue of financial compensation that resulted from your accident.
---
No Fees Unless We Win, Always
When you need legal representation, it is important to find a law firm that has experience in your specific case. At Marshall Injury Law, we understand how crucial this decision can be and offer free consultations so our clients know their rights and options available
---
Eric L. Marshall is a top lawyer of distinction in Las Vegas
Eric L. Marshall is a seasoned back injury lawyer and is fully equipped to handle any complications that may arise during your injury case. He will meet with you personally from day one and will always be available to answer any questions you may have about your case.
---
What to expect from your spine injury lawyer in Las Vegas
When you hire Eric L. Marshall to represent you in your spine injury case, you can expect personalized attention and dedication to obtaining the best possible outcome for your case. Eric will work tirelessly to investigate the circumstances of your accident and build a strong case for liability. He will also negotiate with the insurance company on your behalf to try and reach a fair settlement for your personal injury claim. If a settlement cannot be reached, Eric is prepared to take your case to trial and fight for the compensation you deserve.
---
Types of spinal cord injuries
The difference between a complete injury and incomplete injury can be difficult to tell, but one thing that usually stands out is how much feeling or movement there is on either side of your body. The common types of spinal cord injuries can also differ based on the location on your body where the spinal cord injury occurs.
---
Complete spinal cord injury vs Incomplete spinal cord injury
Spinal injuries can be classified as either a complete spinal cord injury or incomplete spinal cord injury, depending on the extent of damage to the spinal cord. A complete spinal injury is one in which there is a total loss of sensation and motor function below the level of the injury. This means that the individual will have no control over their limbs and will be unable to feel anything below the site of the injury. In contrast, an incomplete spinal injury is one in which there is some remaining sensation and motor function below the level of the injury. This means that the individual may still have some feeling and movement in their limbs, although the extent can vary depending on the severity of the injury.
---
Spinal trauma types:
Spinal cord injuries to the cervical (or neck) area of the spine can lead to the traumatic event of total paralysis, quadriplegia, paraplegia, loss of voluntary bodily functions, loss of autonomous respiratory function, and lack or total loss of sensation in the injured area. The cervical (neck) area of the spine is vital to maintaining balance and stability. Any damage can lead you unable to do almost anything for yourself.
Spinal cord injuries to the thoracic (or middle) spine can cause paraplegia, loss of voluntary control over abdominal muscles, and diminished dexterity. Additionally, it may restrict movement or continuous discomfort without warning signs for many years before symptoms develop.
Spinal cord injuries to the sacral and lumbar (or lower) areas of the spine can cause a complete loss of movement in the legs and control of the muscles in the affected leg and a lack of bladder control. In addition, they may experience decreased sexual function due to these sensitive nerve endings along with subsequent pain that makes everyday living an arduous task for those who have been impacted by this type of injury. Minor injuries in this delicate area can render a victim bound to a wheelchair for the rest of their life.
It's important to note that these types of spine injuries don't always show themselves right away so it is vital to seek medical treatment immediately. A delay in care can result in further physical impairment because damage to the spinal column can get worse with time.
This is why Marshall Injury Law puts health first and foremost so our clients can recover and have access to the best level of medical care.
---
Long-term effects of spine injuries
The consequences of sustaining a spinal cord injury can be quite devastating. These types of spine injury often require ongoing treatment and you could suffer long-term complications such as diminished productivity, emotional turmoil, and financial loss even though there are no visibly noticeable symptoms associated with these types of wounds.
A spinal cord injury may be debilitating for many spine injury victims. Throughout their life they may require continuous medical attention far into the future due to the complex nature of the spinal cord.
Insurance companies are notorious for being aggressive when it comes to closing spinal cord cases. They know that spinal cord injury can be very complicated and will try their best to reduce the pay compensation due in spinal cord injury cases without considering the long-term health of the victim.
Spinal cord injury attorney, Eric L. Marshall, wants to make sure you get fully compensated under the protection of Nevada law which guarantees victims' rights.
---
Common incidents that can cause a back injury
Below are some of the most common ways that a back injury can arise:
Car accidents
Truck accidents
Motorcycle accidents
Pedestrian accidents
Bicycle accidents

Slip and falls
Workplace accidents
Catastrophic injury
Wrongful death
Traumatic brain injury
When you've been injured, it can be difficult to know what your legal rights are. The team at our firm has the experience and knowledge necessary to properly investigate the cause of an accident to hold the liable party accountable.
We want those suffering from a back injury to protect themselves from lifelong discomfort by consulting a trusted back injury lawyer who will help ensure they receive every form of support needed throughout this process. Eric is available to consult with you directly about your legal rights and the strength of your case.
---
Documenting Evidence after a Back Injury Accident in Henderson
If you have been involved in an accident that has resulted in a back injury, it is important to document as much evidence as possible. This includes taking pictures of the scene of the accident, getting contact information from witnesses, and keeping all medical records related to your injury.
It is also important to keep a journal detailing how your injury has affected your life. This can be used to show the true extent of your damages when seeking compensation from the responsible party.
---
What Evidence is Used to Prove a Back Injury?
The medical evidence provided in a case can speak to the nature and severity of your injury. This includes X-rays, scans, or other diagnostic tests that help doctors determine what has happened to you. This can help to give recommendations moving forward based on their findings.
It is important for people who are experiencing back injuries to be taken seriously because this can be a lifelong injury with serious consequences.
---
Can I Sue Over a Back Injury?
Spinal Cord Injury Settlements can exceed a million dollars due to the severity and permanent nature of injuries. A settlement also includes considerations for life-changing pain and suffering associated with paralysis or loss of bodily autonomy. It's important for you to understand what compensation you deserve in terms of how much money is being offered based on factors like the extent of your injuries, or the circumstances in which you sustained a back injury.
---
Can I Still Get a Settlement If My Injuries Didn't Require Surgery?
Not every back injury settlement requires surgery, but it's important to document your injuries in order for you to get the most out of any compensation. A back injury lawyer in Henderson can help with that by ensuring there is an accurate estimate of future medical treatment needs and what those costs might be if they arise later down the road; this way we know whether or not our client deserves more than just a fractional sum based off current damages (which often times don't amount anything).
---
How Much Does a Consultation Cost with Marshall Injury Law?
Nothing. Eric L. Marshall will meet with you personally to go over your case. You won't be delegated to another attorney here, and you will have contact with him throughout the proceedings of your case if you have any questions. Together you will collectively go over the details of your injury and have top-notch treatment provided to ensure you can recover from such a traumatic event. Eric's goal is the long-term health of his clients, and this will be at the forefront of every action. When you become a client at Marshall Injury Law you are considered a member of the Marshall Family.
---
How Eric L. Marshall Can Help You Obtain the Maximum Settlement for Your Back Injury Case
No two back injuries are exactly alike, which is why it is so important to have an experienced back injury lawyer by your side throughout the process. When you hire Eric L. Marshall, he will take the time to understand the unique circumstances of your case and craft a customized legal strategy designed to get you the best possible result. He has extensive experience dealing with insurance companies and knows how to maximize settlements for his clients. Contact Eric today for a free consultation about your case.